Our Adult Cats
Our Siberians are registered in TICA and CFA.
We attend to quite few shows every year and our cats carry lots of titles that include Champions, Grand Champions, Double, Triple, Quad Grand Champions and Supreme Grand Champions. Some of our cats also become Regional winners and received certificates for been top best in color divisions.
Below you can see some of our awards and certificates.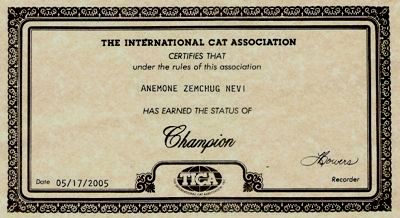 Altyn Onix Gloria of Charodey at 1 year and 2 months — Show in Brigthon, CO November 16-17, 2013
WATCH VIDEO
Altyn Onix Gloria of Charodey at 1 year and 2 months — Show in Brigthon, CO November 16-17, 2013
WATCH VIDEO
Altyn Onix Gloria of Charodey at 1 year and 2 months — Show in Brigthon, CO November 16-17, 2013
WATCH VIDEO
Altyn Onix Gloria of Charodey at 1 year and 2 months — Show in Brigthon, CO November 16-17, 2013
WATCH VIDEO
Altyn Onix Gloria of Charodey at 1 year and 2 months — Show in Brigthon, CO November 16-17, 2013
WATCH VIDEO
Altyn Onix Gloria of Charodey at 1 year and 2 months — Show in Brigthon, CO November 16-17, 2013
WATCH VIDEO
Charodey Uslada at at 1 year and 6 months — Show in Brigthon, CO November 16-17, 2013
WATCH VIDEO
Charodey Uslada at at 1 year and 6 months — Show in Brigthon, CO November 16-17, 2013
WATCH VIDEO
Charodey Uslada at 7 months — Show in Brigthon, CO January 5-6, 2012
WATCH VIDEO
Vonmittelmiejer Rosinka of Charodey — Show in Brigthon, CO January 5-6, 2012
WATCH VIDEO
Charodey Uslada at 7 months — Show in Brigthon, CO January 5-6, 2012
WATCH VIDEO
Charodey Ruslan at 2 Yrs 10 mon — Show in Brigthon, CO January 5-6, 2012
WATCH VIDEO
Vonmittelmiejer Rosinka of Charodey — Show in Brigthon, CO January 5-6, 2012
WATCH VIDEO
Charodey Uslada at 7 months — Show in Brigthon, CO January 5-6, 2012
WATCH VIDEO
Vonmittelmiejer Rosinka of Charodey — Show in Brigthon, CO January 5-6, 2012
WATCH VIDEO
Charodey Ruslan at 2 Yrs 10 mon - Show in Brigthon, CO January 5-6, 2012
WATCH VIDEO
Charodey Uslada at 7 months — Show in Brigthon, CO January 5-6, 2012
WATCH VIDEO
Charodey Uslada at 7 months — Show in Brigthon, CO January 5-6, 2012
WATCH VIDEO
We recommend LIFE'S ABUNDANCE FOOD for all your pets
ORDER YOUR KITTEN/CAT FOOD HERE